Popular Topics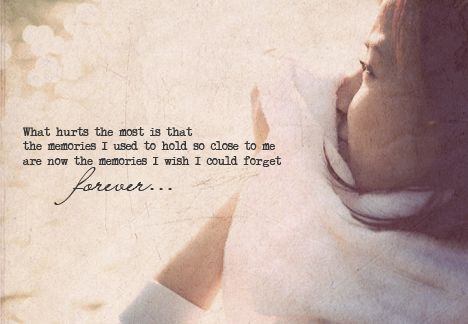 What
hurts the most is that the memories I used to hold so close to me are now the memories I wish I could forget forever.
When you lose someone you love, either by choice or just by circumstance, it is inevitably very difficult on a person emotionally, physically, and spiritually. The grief from a break up, or the death of a close loved one is obviously a very trying time for a person, and can be some of the hardest days of a person's life. There are a few things to remember when going through situations such as these.

Remember that it is okay to grieve, crying is a good way to release the pain of losing someone, and laughing at the good times and fun memories you shared is also a good coping mechanism. It is also important to remember that everything happens for a reason, and to take everything you learned from the relationship you shared with that person you just broke up with, or lost unexpectedly, and use that life experience to better yourself and your future. Though it may be fresh on your mind just try your hardest to remember that this is just a season in your life, everyone faces difficulties and setbacks, but it's how you overcome them that makes you who you are.
Related Quotes with Pictures about Love
Beauty
might bring happiness, but happiness always brings beauty.
The way that the world functions today, we tend to think that our beauty is made up solely of the person that we see when we look in the mirror. Little do we realize our beauty is made up of the person that we are inside, not the person that we are on the outside. If we only allow people in our lives that only appreciate us for our beauty on the outside, we will never have real friendships or love.
Read the rest of this article »
Beauty quotes with pictures
Happiness quotes with pictures
Self Love quotes with pictures
Self Empowerment quotes with pictures
The
greatest weakness of most humans is their hesitancy to tell others how they love them while they're alive.
Being able to tell someone how you feel is a very difficult challenge, especially when it is the first time telling them. Although it is not feasible for every moment of our life to be planned, sometimes planning your words, especially when you are relaying your feelings to someone is the best way to handle things. In order for you to tell someone that you love them, you cant be looking forward to telling them, seeking for them to say the same in return.
Read the rest of this article »
Love quotes with pictures
Life quotes with pictures
Positive Thinking quotes with pictures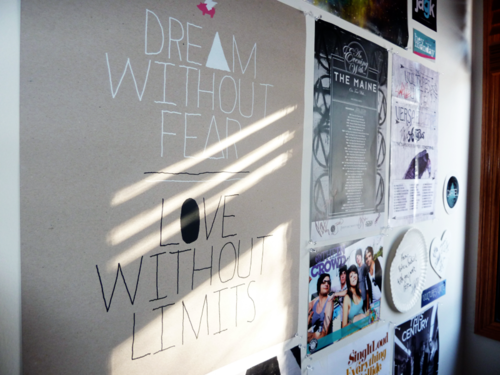 Dream
without fear, love without limits.
Have you ever noticed that in some of your dreams you have while sleeping you possess the superhuman qualities of a super hero while at the same time possessing the romantic qualities of the Worlds Most Interesting Man (or woman)! Even though these dreams do not seem realistic and seem so far from who we actually are at heart sometimes, doesnt mean that we cant at the least try to live up to their inferences to our lives.
Read the rest of this article »
Love quotes with pictures
Dreams quotes with pictures
Life quotes with pictures
Positive Thinking quotes with pictures
If
you aren't happy being single, you will never be happy in a relationship. Get your own life and love it first, then share it.
Just because you are single doesnt mean that your life is over. In fact as a newly found single person in this world, you are at a great point in your life, to let your hair down, and have some fun! Without being in a committed relationship, you are without commitment to anyone but yourself. So make some new commitments to yourself, sit down and set up a plan this year to do things like take trips out of town and visit places that you have never been to and want to see.
Read the rest of this article »
Relationship quotes with pictures
Love quotes with pictures
Being Single quotes with pictures
Love
isnt when you can name a million things you love about the person. Love is when you cant even find the words to describe how you feel about them.
Have you ever loved someone so much and wanted to tell them how they make you feel but just couldnt find the right words to tell them exactly how you feel? Plenty of us that have experienced love have experienced the same thing and trust me you arent alone.
Read the rest of this article »
Love quotes with pictures
Relationship quotes with pictures
Join Us on Facebook
Latest Picture Quotes