Popular Topics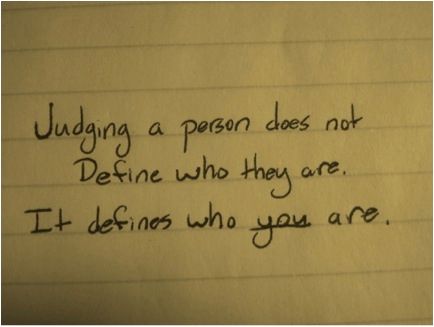 Judging
a person does not define who they are. It defines who you are.
When we sit back and judge others we are simply saying that we are in a sense, better than them. When in fact we have no right to judge anyone, for we are all with sin. The only entity that has the capacity to judge anyone is God himself and no one else.

Many people are infatuated with judging others, because it subconsciously boosts their confidence being able to say whether what someone else is doing or what someone else looks like is the right thing to do or the right way to look. When we pass judgment on other people we are in no way giving them a definition or a title, we are only saying things about who we identify as, such as the fact that we probably don't really have much self confidence and also that our sense of morality is distorted. Define who you are, by not judging, and instead by helping!
Related Quotes with Pictures about Judgment
They
tell you to be yourself then they judge you.
One thing that we must realize is in our lives is that people all around us will judge us, and expect for us to want to live our lives up to their standards. Another thing that we must realize is that the only standards we must live up to are God's standards, nobody elses judgment's of us truly even matter.
Read the rest of this article »
Judgment quotes with pictures
Inspirational quotes with pictures
Join Us on Facebook
Latest Picture Quotes