Popular Topics
The
best proof of love is trust.
When people are insecure and uncertain about who they really are inside and are involved in relationships, they make it known the way that they are by refusing to trust their partner. The best proof of love is trust, because when two people are really in love with each other, they simply make valiant efforts not to break each other's trust. Real love between two people can really only be shared to the best of its ability if both people really know how to love themselves first.

If you want to gain trust in someone, there isn't much that they can do to make you gain it. You must be willing to trust and believe in yourself with great confidence, so that you can in turn take this light and positivity into the relationships that you carry on. Trust in love, because when you do, you allow it to blossom to its full potential, and it will allow you to see the true beauty in life!
Related Quotes with Pictures about Trust
Real
love is not based on romance, candle light dinner and walks along the beach. In fact, it is based on Respect, Compromise, Care and Trust.
Real love is knowing who you want to be with forever, and loving them so much that you would rather be gone from this Earth than to still live and see them go. Real love isn't the easiest thing to find in this crazy world, but when you find it, be sure to hold on to it. Real love is rare, and it should be encouraged, nurtured, and grown to its fullest potential, of course willing that the time is right for both parties.
Read the rest of this article »
Love quotes with pictures
Relationship quotes with pictures
Respect quotes with pictures
Trust quotes with pictures
Heart Touching quotes with pictures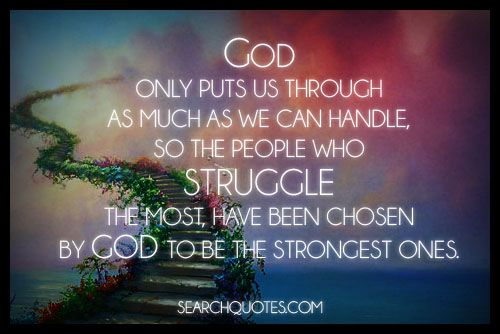 God
only puts us through as much as we can handle, so the people who struggle the most, have been chosen by God to be the strongest ones.
Did you know that God will never put more on you than you can handle? God never explains why certain horrendous things in life are able to happen, but he does let us know in his word that he will always be there for us when we need him to be.
Read the rest of this article »
God quotes with pictures
Strength quotes with pictures
Struggle quotes with pictures
Faith quotes with pictures
Overcome quotes with pictures
Inspirational quotes with pictures
Trust In God quotes with pictures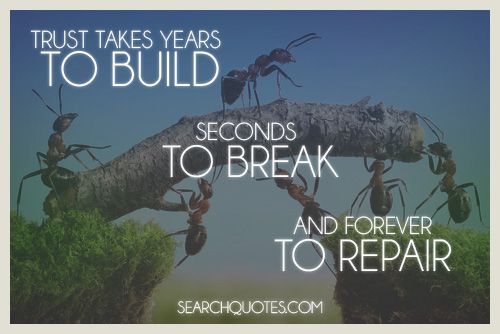 Trust
takes years to build, seconds to break, and forever to repair.
Giving trust to someone isn't hard to do, but maintaining a trusting relationship with someone is very hard to do when a persons trust is broken. It only takes one bad move to break someone's trust, and something that may have taken years to build, immediately goes away for many people.
Read the rest of this article »
Trust quotes with pictures
If
you treat me as a friend and trust me, you may find that I justify your trust.
When someone who considers you a friend gives you trust, and you accept this friendship as one you will protect, it is your ultimate duty to keep this sacred by never breaking the trust of a friend. Honesty isn't always the easiest policy to act on, but it in the end will always be the best policy to put in to use in almost any friendship.
Read the rest of this article »
Friendship quotes with pictures
Trust quotes with pictures
Loyalty quotes with pictures
It
is so easy to believe someone when they tell you exactly what you want to hear.
In this cruel world we must be careful because some people are only in lives for their own pleasures and desires. Some will tell you things that they think you want to hear so that they may get out of you whatever it is that they desire. If we want to avoid dealing with deceptive people, we must be willing to do a number of things.
Read the rest of this article »
Trust quotes with pictures
Dishonesty quotes with pictures
Lies quotes with pictures
Deception quotes with pictures
Fake People quotes with pictures
Join Us on Facebook
Latest Picture Quotes