Popular Topics
Quotes With Pictures - About Miracles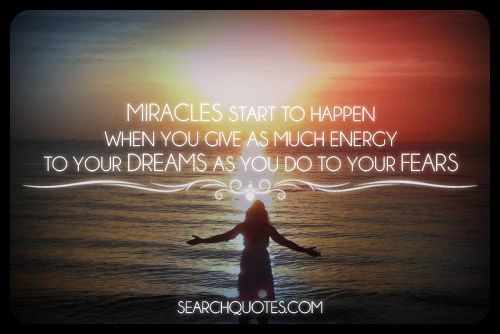 Miracles
start to happen when you give as much energy to your dreams as you do to your fears.
Miracles start to happen when you are willing to give more energy to your belief in the supernatural, instead of your belief in doubt and fear of things not happening supernaturally. Everyone gets a miracle sometimes. It may not come in the form of winning the lottery, or landing a seat in the Oprah show audience to win a new car, but we all have seen some type of miracle in our life.
Read the rest of this article »
When
God steps in, miracles happen.
Our whole life is a miracle. From us being born, to us living a free life, free of condemnation, and free of having to worry about what others do to bring us down! We are more than conquerors, if we just believe in him, and work through his will instead of trying to live our lives living our own will there will be nothing put in our paths that we wont be able to overcome.
Read the rest of this article »
Join Us on Facebook
Picture Quotes